SMA is a portfolio of securities and cash directly owned by the client and managed by us according to our specific discipline and investment philosophy. Our clients can be individuals, joint-accounts, and institutions/funds. We are responsible for client accounts investment decisions, supported by a team of analysts.
SMA plays an important role in clients' investment strategy because of the special benefits they offer, albeit at higher investment minimums. By not pooling assets with other investors, clients may monitor the portfolio's progress and get specific financial goals with added flexibility and control. SMA can be tailored to meet individual clients' needs — focusing on risk tolerance and long-term investment objectives.
While we exercise discretionary control over client accounts and execute transactions, we do not take custody of client funds or securities; instead, the brokerage company is the custodian to hold the securities.*
Please contact us: investment@christmascorp.com for information.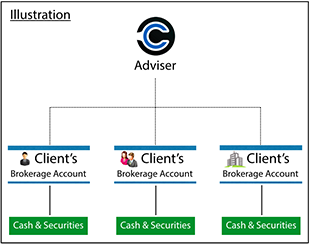 *Christmas Corporation uses Interactive Brokers LLC to do transactions and manage clients accounts. Christmas Corporation does not take any commission from the brokerage company.
All investments carry a certain degree of risk, including the possible loss of principal. There is no assurance that an investment will provide positive performance over any period of time. There are specific risks that apply to investment strategies. These risks should be reviewed carefully before taking any investment action. Past performance is no guarantee of future results. Clients should consult their professional advisors before making any tax or investment decisions.